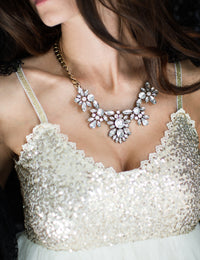 "ANGELICA" Vintage Style Necklace
This stunning vintage style statement bib necklace is the perfect holiday accessory! Reminiscent of 1920s Art Deco, this necklace is set in antique gold tone metal with clear crystals. Also available with matching bracelet and earrings.
Measurements & Details:
- Necklace - middle apieces measures approx. 1 7/8" tall x 1 3/8" wide connected to 4 side pieces. total measurements when hanging for entire crystal piece is approx. 5" wide. Chain is 3/8" wide. solid metal with crystals gives this piece nice weight.
- Earrings 1.5" x .75"
- Bracelet 7/8" tall. Stretchable. individual pieces set on a white stretch elastic on the inside (not visible when wearing).
Fast Shipping!
FREE SHIPPING on U.S.A orders over $35USD!*