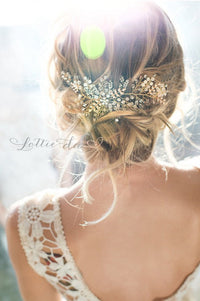 This unique beaded boho wire hair vine is a lovely finishing touch for the boho chic bride. A mix of metal leaves, opal beads, off-white pearls and clear crystals create a textured botanical design. 

COLORS:
1. SILVER: Bright silver leaves set on silver wire.
2. ANTIQUE SILVER: Silver leaves with blackened inlay, giving it an antique appearance. Set on silver wire.
3. GOLD: Warm gold leaves set on yellow gold wire.
4. ANTIQUE GOLD: Blackened inlay on metal leaves giving it an antique appearance. Set on yellow gold wire.
5. ROSE GOLD: Pink tone Rose Gold leaves set on rose gold wire.

DETAILS:
- Measures approx. 7" x 2 5/8" (17.3cm x 7cm).
- Hand-wired, bendable but durable allowing you to shape into desired look.
- Lightweight, easy to wear. See below for ways to wear.

OPTIONS for HOW TO WEAR: 
1. WEAR AT BACK OR SIDE OF HEAD (No Ribbon Ties) - Secure with bobby pins. Comb is not required - item is lightweight and holds well with pins. Ribbon Ties are not required for this look - Select 'No Ties' from dropdown. View How To Video for how to wear in back: http://bit.ly/2wBZGjA 

2. WEAR AS A HEADBAND (with Ribbon Ties at each end) - using ribbon ties to tie in bow at nape of neck you can wear this piece sitting on the top of your head or on the side. Ribbon ties come long so you can trim if needed. Many ribbon tie colors available. 


FREE SHIPPING on U.S.A orders over $35USD!*