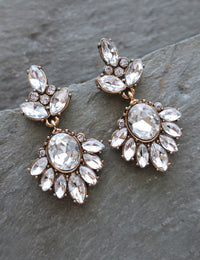 "ANGELICA" Antique Gold Earrings
Art Deco inspired statement earrings are perfect for your holiday party, wedding, special occasion or for everyday! Punch up that plaid, dazzle up your denim, sparkle up your sweater! These 1920s Gatsby inspired earrings set in antique gold tone are a perfect size for that Holiday or very day bling!
Measures approx. 1.5" x .75"
Available with a matching bracelet and necklace.
FREE SHIPPING on U.S.A order over $35USD!*